International CV Template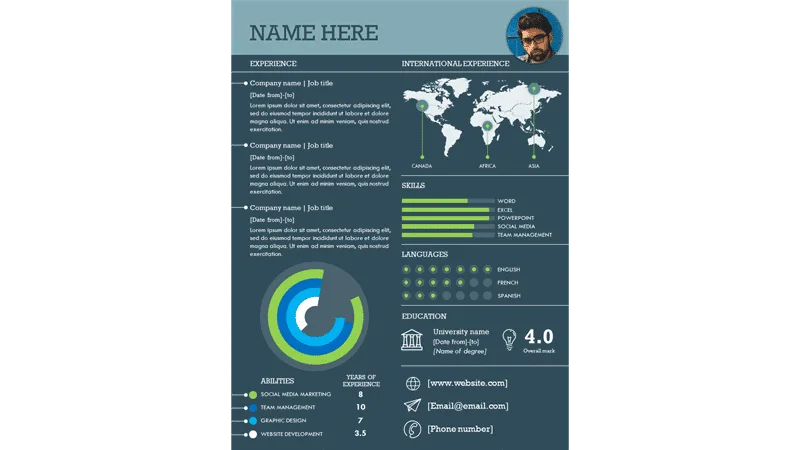 One way to stand out to recruiters, especially if you have a varied international experience, is by using a creative, internationally-focused CV/Resume. We have an awesome example CV in PowerPoint you can easily customise and adapt to fit your profile. You can download the International CV Template for free below. 
As a bonus, here's a few extra tips
Why should I create a creative CV focused on international experience?
It showcases your global perspective and intercultural skills, which are highly valued in today's globalized world.
It demonstrates your adaptability, flexibility and cross-cultural communication skills.
It makes you stand out from other job applicants and catches the attention of potential employers.
It highlights your language abilities, which can be especially important in international settings
What should I include in a creative CV focused on international experience?
Your creative CV focused on international experience should include the following elements:
A professional profile that highlights your international experience and skills.
A summary of your international work experience, including any international job titles, responsibilities, and achievements.
A list of your language skills and proficiency levels.
Information about your education and any international courses or certifications you have received.
A section dedicated to your international travel experiences and any international volunteer work you have done.
How do I make my creative CV stand out?
Unique layouts, colors and font choices to showcase your creativity and personality.
High-quality images, such as photos from your international travels or work experiences.
Infographics, diagrams or charts to visually represent your international experience and skills.
Testimonials or references from international colleagues or employers.
Relevant keywords related to international experience and skills to make your CV more easily searchable.
Make sure to take advantage of all our free resources, including our DISC Workplace Personality Test you can take for free here. We also announce regular giveaways on our LinkedIn Page.